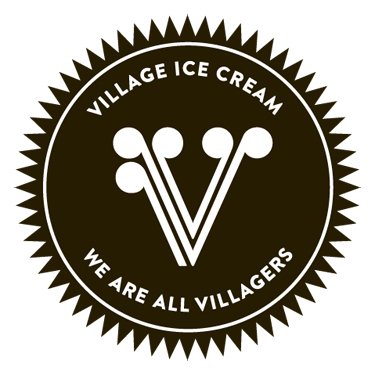 There is one thing that makes Calgarians and Canadians feel childlike- to have something that is homemade and sweet, that's cold but warms your heart, and makes you smile from ear to ear. Some of my favourite memories are surrounded by ICECREAM! I know first hand that feeling of pure bliss and excitement when someone asks or offers- does anyone wants ice cream?
I SCREAM. YOU SCREAM. WE ALL SCREAM FOR 
VILLAGE ICE CREAM!
Billy Friley, the founder, has a story of starting a company that most entrepreneurs would be jealous of- a motor bike trip in hopes of making it to Brazil, but making it to Mexico. Friley felt disheartened when he was in Montana on his grandmother's porch thinking about not making the trip he had planned, he found ease and joy in a pint of Huckleberry ice cream. Although Friley may not have had the trip of his dreams, the comfort he found in something as simple as ice cream, he discovered that he wanted others to find their own happiness in something so simple. His plan, to do this through unapologetic ice cream.
How does such a unique and decadent treat come to be the love of an entire community? Village Ice Cream taught Calgary that ice cream has no boundaries, that is it something that can bring people together that constantly are smiling and laughing, while possibly getting a brain freeze. There is no question of the line up at any of the three
Calgary locations of 'Villagers' waiting to get their cravings filled from ice cream, that is made from the best naturally sourced ingredients.  The atmosphere that Village Ice Cream creates is a contributing factor to why Calgarians are loyal not only to artesian ice cream, but it could also because of the staff loving what they do and where they are, by choreographing hilarious dance routines, eating a little too much pizza, and entertaining the 'Villagers' with bad ice cream puns.
To fully understand the impact that Village Ice Cream has had on creating a community of literal 'Villagers', lets flash back to the flood in summer of 2013. Downtown Calgary
was underwater, roads were closed and people were evacuated from their homes. Calgarians are some of the kindest people that I have met, and when that water was raising at Village Ice Cream, Calgarians came out and help moved their ice cream to safe freezers, they also help construct barricades to minimize the inevitable water damage.  Village Ice Cream said "Without them, we may not have been able to bounce back. Since then, the community cult of Village that has come has been nothing short of inspiring."
Compared to many Calgarians I am newer to Village Ice Cream, but like everyone else I am head over heels for every single flavor. I attended an evening in support of Fort McMurray Fires Relief last year. I ended up going with some girlfriends, we danced, took photos, mingled, and did this all in very high heels. My mistake happened to be breaking in a new pair of stilettos- by the end of the night my energy was slightly lacking and walking was a bit difficult.  My friend suggested we go for ice cream- specifically Village Ice Cream. I looked at her and said that I have never been, she could not believe it. She said, "That's it, we are absolutely going!" In our heels in the rain we were off for our next adventure. When we pulled up, there was a line of 30 people at 10PM. I looked at her and said, "Is it really worth it, aren't your feet killing you?" She looked me in the eyes and said "Mattea get out of the car." Within 10 minutes the line was no longer in front of us and we had pure bliss in paper cups in hand! The pain was instantaneously gone. A small spoon full of Village Vanilla Bean was quickly off that tiny spoon and in my mouth. I was hooked. My friend looked at me and laughed, followed by "I told you so."
Without a doubt of my mind and most Calgarians too, one of the hottest up-and-coming local landmarks you must attend is Village Ice Cream.
If they can take the pain away of my heels, they deserve not only a gold star but every Canadian should experience this unapologetic treat in a cone or a paper cup!
If you want to experience Village Ice Cream, check out their social media, trust me you will not be disappointed and you will be craving ice cream instantly: